Bronze Arts Award
Salisbury Arts Centre
Today I am starting bronze award at Salisbury Art Centre, which is really excited and fun way to spend a week in different City!
I will record my experience step by step on this page 🙂 keep your eyes open!
Arts Award Mission
Arts Award Mission is to support any young person to enjoy the arts, to support young people to connect with and take part in the winder arts world, and develop creativity, communication and leadership skills. Arts award reflects many different interests and ambitions, encourages individual development and helps young people to define their creative cultures.
Day 1. Arts Inspiration
Today I will make a research about artist or art practitioner who inspires me and I will also show what I've learn and describe my feeling around my research.
Person that Inspires is Henryk Tomaszewski.
Henryk Tomaszewski (born in Warszawa, Poland in 1914 – died 2005) was an award winning poster artist.
Henryk was one of the first artist of the Polish Poster School, beginning in the 1950s and through the 1980s, the  combined the aesthetics of painting with the succinctness and simple metaphor of the poster. It developed characteristics such as painterly gesture, linear quality, and vibrant colors, as well as a sense of individual personality, humor, and fantasy. It was in this way that the Polish poster was able to make the distinction between designer and artist less apparent.
Graduated from Warsaw Academy of Fine Arts in 1939 and served there as a professor 1952 – 1985. He created works in poster, satirical cartoon, drawing, and illustration.
He was granted the title of Honorary Royal Designer for Industry by Royal Society of Arts in London and was a member of Alliance Graphique International (AGI).
Examples of artist work: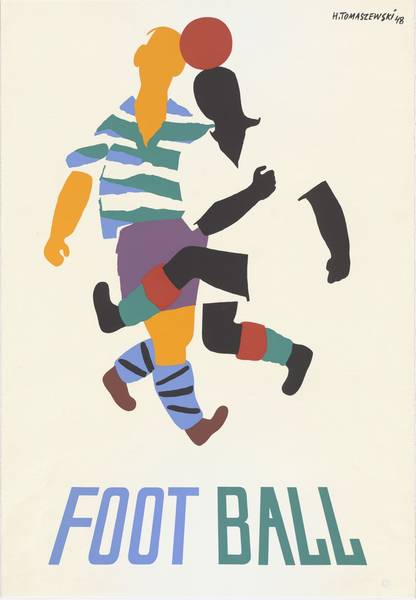 The strength of his graphic works lies in a simple and intelligent translation of messages and symbols from literary, theatrical, film, music and social themes into a visual language. He himself admitted 'a lifetime search for such signs which would be comprehensible to everyone'.
He lived in Warsaw under the Nazi occupation and had his drawings printed in the Lublin-based satirical weekly, Stańczyk in 1944. He moved to Łódź in 1945 and resumed contributing to Szpilka. He returned to Warsaw in 1950 and began designing sets for the Syrena Theatre. Two years later, he was appointed Professor at the Warsaw Academy of Fine Arts, heading its Poster Studio until 1985, educating dozens of up-and-coming graphic and poster artists of considerable renown. Indeed, his Studio attracted young trainees from all over the world and Tomaszewski invariably encouraged his disciples to do things their own way.
Tomaszewski received a number of art prizes and honours in various countries. His cartoons were printed in various literary reviews, including Przegląd Kulturalny and Literatura. His drawings were published in the volume, Książka zażaleń / A Book of Complaints, in 1961. He designed a number of books and exhibitions, and was a member of many international art societies, including the prestigious Alliance Graphique Internationale (AGI). The Royal Society of Arts in London conferred upon him the award 'Honorary Royal Designer for Industry' in 1976.
Tomaszewski, whose debut took place in the second half of the 1930s, brought to the Polish poster the vigour of youth, a freedom in shaping the picture, and a rich imagination. His technique was close to painting. His works, first noticed at the 1939 World Exhibition in New York, used colour spots and synthetic drawing. After World War II, he embarked upon a provocative play with the viewer's imagination, using sophisticated poetic devices and a minimalist form. His superbly designed graphic signs, letters, symbols and metaphors made expressive and apt comments on theatre and opera performances, exhibitions, concerts and other cultural events. He used mental shortcuts and exquisitely synthesised ideas in the form of graphic or painted signs to convey succinct yet sophisticated messages in posters, illustrations and book covers. His works are unique for their simplicity, intellectual precision, extraordinary sense of humour and easy, laconic drawing. They convey general and profound truths by commenting on events that would otherwise have gone unnoticed, and their allusions and understatements invite a creative reception.
Many of Tomaszewski's works have become world poster classics, such as the theatre posters 1. Król Edyp / Oedipus The King (1961), 2. Hamlet (1962), 3. Hadrian VII (1969), 4. Witkacy (1972), 5. De la marionnette (1978), 6. Amadeusz / Amadeus (1981), 7. Manekiny / Mannequins (1985), 8. Edward II (1986); the film posters 9. Symfonia pastoralna / Symphonie pastorale (1947), 10. Obywatel Kane / Citizen Kane (1948), 11. Rewizor / The Inspector General (1953), and the exhibition posters 12. Moore (1959), 13. Wzornictwo przemysłowe Wielkiej Brytanii / Industrial Design of The United Kingdom (1963), 14. Teresa Pągowska (1986), 15. Henryk Tomaszewski – Love (1991).
2.3.4. 5.6.
7. 8. 9.
10. 11. 12.
13.
14.
15.
Summary of my research :
Overview:
I came across this artist when I was in my third year of uni, I was looking for a good project for my degree show, which wasn't easy as it was the most important work that I've meant to do that time. In the end of my degree I've illustrated songs by Polish band 'HappySad' but my work was inspired most of polish posters artists. I was really fascinated by Polish School of Poster movement in Poland because of this brilliant free-hand, different way of designing the posters and living conditions they were working in. Now days our streets are full of posters but for me they are really stiff, made up in digital form without any personal interaction… well if you lucky enough you will find poster that is more made by hand than by computer but that is rare. I am making lots of my work at computer but it is always just a tool, not base of my illustrations. Those polish artists were doing those amazing posters in very tough living conditions in country under the war and still able to speak up loud with their art. For me as a foreign living 8 years in England it is also quite important that Polish artist is well known in the art world, which gives me a bit more self confidence about my work as well.
Techniques:
I really enjoy Henryk's art works because I can see similarity between mine own illustrations and ideas and artist work. I love this freedom on his images, free-hand drawings and amazing fonts, which looks like artist had a lots of fun while doing them. Many times in my work I am using the same kind of ironic and sarcastic ideas as much as simplicity. I always trying to make a strong illustration to hit the viewer but with thought in my head 'less is more' and it always seems to work for me anyway.
Examples of my work:

My work inspired by Henryk Tomaszewski :
I decided to produce artwork inspired by Henryk during my time here in Salisbury. I went for my lunch break and seat on the bench outside Art Centre and saw this wonderful poem hanging from the tree!
I decided to illustrate this poem by using paper and simple colour pens:
Then by using Photoshop and my own made brushes from drawings I've creative simple image inspired by Henryk and poem outside the arts center.
Time spend on art work: First one – 20 min Second one – 3 min Third one – 3 min
1.
2.
3.
I love the way how easy and playful this image making is. My technique, the same as Henryk's is quick, strong, ironic and bold, can be very useful for quick commissions and art making. Ideal for this kind of work is also a screen printing which gives amazing effects but faster way is to use Photoshop.
Henryk will always inspire me because of his amazing simple visual communication between his work and the viewer, which makes him so unique!
The great strength of Tomaszewski was that he could match every message to an easily understood symbol; his visual language could be read at every latitude.
Day 2: Arts skills share -passion on arts skills to others
So here we are day 2 at the Arts Centre! Today I will pass on my skills or knowledge to someone by leading a short workshop or presentation which will include an explanation of my skills. I've decided to share my quick way of imagine making technique on Photoshop.
Originally Adobe Photoshop is a raster graphics editor developed and published by Adobe Systems for Windows and OS X and is using by Photographers, Graphic Designers and other creative individuals who want to manipulate their photos or make a new art works. Because screen printing is quite expensive technique in my work  I am using Photoshop as alternative to traditional Screen Printing  (Basically, it is the process of using a mesh-based stencil to apply ink onto a substrate, whether it be T-shirts, posters, stickers, vinyl, wood, or other material.)
When I was at uni I found out that by few clicks in Photoshop we can easily create 'brush' which can do the same job as printing screen so we can multiply image as many times as we want, just like stamp!
I need to add that my technique is not perfect for everyone because we can only have digital image, it can be printed on any printer but for the best results we need to use professional art printers. Also in many cases colours may have a tiny different shade after printing but it all depends on printers that we are using.
With my art work almost every time it comes out as good as I want to, but I would rather use screen printing in some of my works as Photoshop sometimes can take away my loose hand drawing feeling. But different than Screen Print on Photoshop we can make few brushes and play with them around, change, remove, add, replace and with Screen Printing when we make one image we can only play with position on the paper.
Example of my work done by Screen print and in Photoshop Screen printing technique:
Screen Print                                                                               2. Photoshop Screen Print
This technique have few advantages and disadvantages, it is not for everyone but for many to enjoy!
I would like to share this technique because I think not many people tried that yet and would be nice to have a chance and play around, I can say it is a big fun!.
My activity today will be based on 5 easy steps :
Lets go!
You will need:
-black pen, pencil or ink!
-Piece of paper
-Imagination
Task:
Draw any thing you want! It can be a few little images or one big one!
If you have trouble with thinking about anything draw for me a :
-hat, eyes, sun and broom
or
-Lazy cat laying on the sofa with his name next to him and crazy dancing stars.
You will need:
-Scanner or any camera, even your phone one is good enough!
Task:
Scan your image in high resolution or photograph it in a good light
You will need:
Adobe Photoshop
Task:
-Open your image in Adobe Photoshop
-If it needs rotating, on the top on the page you will see 'image' and then 'image rotation' and try '90 CW' as many times as you need until image will be in right angle.
-If your image is on the right position go to the top of the page and click 'image' —-> 'Adjustments' —-> Black and White, you image should change to B&W scale.
-And again go to the 'image' —> 'adjustments' —>'levels' and you will see
<—–
Click white brush (right hand site) and click on the white space around your image until it will be completely white and then click black brush (left hand site) and click one spot on you image that is black, it should change to completely black. This way we will have clear B&W image.
-If you have you perfect B&W image now go to the 'Edit' —> 'Define Brush Presents' and now you have your own brush! You can find it by clicking little brush image on the left corner of the page.
You can find you image in this box 🙂
You will need:
-Brush that you've already done!
-Imagination
-Nothing else!
Task:
-By clicking little brush you can play around and make image,as many times you like, if you want to change brush colour you need to click big black square on the bottom of long strip and colour range will appear ! To change size of the brush you can use ' [ '-bigger and ' ] ' -bigger on the keypad. Be creative and change anything you like 🙂 have fun!
Don't forget to save, share or print your image because I am sure it's brilliant and unique!
CHEERS! 🙂
Sharing my skill to Melanie Evans (Salisbury Arts Centre Programme Manager)
Also as a part of day two I did a short workshop with Mel of how to make and use brush in Photoshop. Workshop was around 20 minutes and Mel create blue sky with lovely stars, here are photograph of her work.
<——-
On photograph number one we can see original drawing made with simple marker. On number two after few minutes of playing around we can see final work that she done:
                                ——->
 And also me and Mel during the workshop:
Summary:
I think workshop went really well, I was trying to use simple messages how and when to do next step. Mel was really good fast learning person and didn't have any problems to do any tasks. She never  used Photoshop before, which showing how easy that technique can be. Also during the workshop Mel gave me amazing idea how this technique can be used for 'make your own' Christmas wrapping paper, cards etc workshops with kids and adults. Because it is fast way to produce images everyone would love to make personal touch for Christmas gifts. I would like to run workshops like that someday.
Feedback from Melanie:
This morning I took part in a Photoshop lesson led by Greta. I felt a little anxious at first as I am not confident using Photoshop and often avoid using it due to this.
We started the session by creating a drawing; Greta made some suggestions of simple drawings I could make which was reassuring as I furiously started to think of what I would be able to draw. After we had photographed my black and white drawing of stars, Greta demonstrated how to open the image in Photoshop and showed me how to use some of the tools, including the paint bucket, lasso and colour picker. She also taught me how to remove shadows from images, change the background colour and how to create a stamp using the drawing I had made.
After the demonstration and by following Greta's step by step guide, I was able to change the colour of the stamp from white to yellow and the plain background to blue to create what looked like a starry night sky. I was pleased with the results, how simple it was to completely transform an image and the seemingly endless possibilities available. We discussed how these tools could be used to create wrapping papers from your drawings and how children could easily use this programme to develop their artwork without the need to throw away drawings that they weren't satisfied with. Greta was very enthusiastic about teaching similar workshops for children in the future.
After Greta's workshop I now feel that I am able to confidently use several tools to create imaginative and colourful images from my mark making. I am looking forward to playing around with more images in Photoshop and using these new skills.
Melanie Evans
Programme Manager
Salisbury Arts Centre
Day 3: Explore the arts as a participant.
In day 3 I will develop my interests, knowledge and skills in a creative arts activity through active participation. Activity can be something new to me or a development in something I am already familiar with. I did choose to try pottery today as I always doing everything flat it would be nice to try 3D.
Photographs from my day at Pottery studio with Mirka Golden-Hann (experienced ceramics teacher, maker and published researcher, Salisbury Arts Centre resident since 2009) :
First thing Mirka teach me how to roll the clay to get rid of any air from inside, which was very important as clay may blow up in the kiln and wont shape well too.
Mirka also showed me how to make a pot on the pottery wheel. When she was doing it I thought its quite easy and smooth but actually it is hard work to do as clay need to be pushed hard to the wheel and without good technique it is hard to make a nice pot, as the way your fingers goes is really important and the power of pressing, so its need a practice.
But in the end I did menage to produce a nice little pot. I really liked that pottery lesson and I would really want to try again in the future.
This technique can be included in my own illustration work, my way of working is really fast and not as neat as Mirka's ceramics but it would be nice to produce few little plants pots in my own twisted way and then paint it with my imagination, colourful art work!
Summary:
I really enjoyed my pottery lesson with Mirka, we had a lot of laugh while pot making process, I think I could easily use this technique in my own work, which is good development step in my illustration journey. I have learn how to use a pottery wheel and how to get rid of the air in the clay, Mirka was very patient teacher and explained me everything I needed to know, really nice day!
My own sculpture experiment:
After my lesson with Mirka I decided to stay at the pottery room to try sculpture the head, not just a head I decided to sculpture Edward Mordake. Me and few of my friends are having exhibition at Perry's shop Gallery in Southampton and I am illustrating 3 freaks (freak show) from the past, one of them was Edward Mordake:
I was trying sculpture making when I was at collage but it was about 4 years ago but I would like to try something different as all of my works are flat.
My first idea of Edward:
 I tried with Edward head as this was the most interesting part of his 'difference' and probably for him it was a curse, which end up badly for him. That is why I choose Edward as he is very interesting case.
My sculpture:
I can say that is not the prettiest sculpture you will ever seen but by doing that I wanted to show emotions that Edward could have during his short life in pain and voices around him. My next step is to paint my sculpture white, which I will do after my Salisbury experience.
Day 4: Explore the arts as an audience member.
In this part of my bronze award I need to experience at least one arts event as an audience member. Reflect on how I enjoyed it, the quality of the event and the art form involved. Share your views with others and evidence this.
I've choose Exhibition by Michael Pennie (From Thu, 10 Sep 2015 to Sat, 12 Sep 2015 in Salisbury art Centre.)
A collection of small sculptures in bronze, stone, wood and ceramic each placed on their own piece of furniture, as if ready for a spot in someone's home.
Michael's sculpture and works on paper are accompanied by the ceramics of Jo Taylor and Sarah Purvey.
 Michael Pennie is a sculptor whose work – usually made by carving wood – is represented in many public and private collections throughout Britain and beyond. Since 1960 he has had numerous solo shows, his first at the ICA, and has participated in many group exhibitions in England and abroad notably at Tate Britain, the Serpentine and Hayward Galleries and Yorkshire Sculpture Park.
Images I took of the exhibition:
Exhibition space at the Art Centre – Left and Right wall.
Exhibition Review:
'You might be sitting comfortably in a chair or reading by the light of a table-lamp and yet the sculptures will emerge from table-tops and shalves, each intentionally inserted into the peripheral-now-central field of our quotidian or everyday movements'
-Sculpture for furniture by Michael Pennie, leaflet 2015
Overview– I am type of a typical illustrator, if I see clean visual communication in the art works I like to look at piece of art without unnecessary thinking process, just enjoying good piece of art. Many times I am trying to look at fine art and apprentice art work but many times I just passing by because I do not understand the work and it makes me angry.  This time it was different, first time I walk in gallery space my brain was thinking 'wow, whats that? I want to explore it' and I did… I look around the works and I really liked the visual communication of furniture! That was the first time, I didn't have to read description of exhibition and each art work to actually know what its all about. Every Pennie sculpture was talking to me 'take me home' and I really wanted to seat down in my chair with the book and look at those sculptures.
Exhibition layout– Layout of the art works was probably limited by the space at the Art Centre, which is a narrow space, two walls and corridor in the middle. Maybe it would look different in gallery which has a big room rather than corridor, I think it may give more 'home' feeling atmosphere.
Description– I guess it would be nice to put labels with names of artists and art works title with materials that they were made from next to the exhibition pieces as sometimes it is hard to recognize one of the three artists (I didn't know it was three of them until I seen label)
Art Works – I've took photographs of some of my favorite art works:
Michael Pennie, Green bronze and terracotta, sculpture 2014, on a octagonal table
That sculpture is just my favorite one ! I really like the fact that the holes inside are not perfectly straight and nite, it gives viewer though that not everything in our lives need to be so perfect, that even imperfection can be totally beautiful and unique. This piece also gives expression of power and strength because of material that being used (bronze and terracotta).
Other sculptures:
Michael Pennie, Combos 2014/2015 Bronze, terracotta and marble
 Michael Pennie, Green and brown bronzes 2014, Fired Clay and oak on a modeling stand.
Michael Pennie, Combo 2014/2015 Bronze, Terracotta and Marble.
 Every piece of Michael sculptures is very unique and different, they remind me of little towns made from clay, we can see a lot of bronze and green in his work, which is a good colour selection as they fit together perfectly, they are not too bright but also not completely dark.  I think it is perfect for any furniture's at any house.
Prints:
Second thing I really like in this exhibition is that Michael added some prints to it , it makes space look a lot more interesting and not everything was 3D, flat framed images are just perfect fit into rest of the work, without them it would be a bit empty. Shapes are interesting, artist probably used wood crafting printing or lino cut technique we can also see the craving lines outside the shapes, which gives interesting and twisted effect, comparing to solid shapes, the only thing i would critique is that artist should play around colours more like in the sculptures… Dark brick red would be perfect !
Michael Pennie, Lino Cuts, 2014/2015
Michael Pennie, Lino Cuts, 2014/2015
Ceramics:
Jo Taylor-
Jo Taylor, Confluence vi 2015, Porcelain
Jo's art doesn't speak to me as well as Michael's because it's not mine 'pair of shoes' for me they are too white, too complicated but it is just my own reaction, but when I am looking at this work those twists remind me of fire tongues coming out from cycles, which is quite interesting effect.
Sarah Purvey-
Sarah Purvey, Seeing red 2015, Ceramics
I really like and enjoyed Sarah's texture on her art works, it is something different, unique and playful. Also really different than Michael work but works together just perfect!
Feedback from Melanie Evans:
Today Greta visited and reviewed Salisbury Arts Centre's new exhibition 'Michael Pennie: Sculpture for Furniture'. We discussed how she sometimes feels that there can be a barrier in communication between Fine Art pieces and her as the viewer, however, this particular exhibition changed her feelings towards this genre of art.
We discussed how the simple forms in Pennie's sculptures and prints had a strong similarity to her own style of illustration. Greta enthusiastically made a number of drawings based on the artworks in the exhibition and seemed to be filled with enthusiasm for a genre of art she may have previously shied away from. She told me how the artworks have inspired her to create some new illustrations when she returns to her studio; I was delighted to see how much inspiration had been instilled in Greta as a result of attending this exhibition.
Greta made a number of excellent points when we discussed her thoughts on the exhibition. She explained how she would like to see the same artwork in a different space and how this could dramatically change the viewer's perception of the work and the atmosphere created. She also pointed out that Pennie's prints were black and white, yet his sculptures were playful in their use of colour; Greta talked passionately and confidently about how she would like to see the artist experiment with the same playful use of colour in his prints.
We discussed other activities that will be taking place alongside the exhibition, such as The Big Draw event on Saturday 10th October, where Salisbury Arts Centre will be inviting members of the public to exchange one of their own drawings in return for one of Pennie's; Greta said that she was very keen to return to Salisbury Arts Centre and attend this event which demonstrates the impact his work has had.
After Greta's experience of the exhibition we talked about how it was important to challenge yourself to attend art events that you may initially be unsure of as this widens your knowledge and could spark a new line of inquiry for your own practice. I am impressed by Greta's dedication and enthusiasm for her illustrative work and am pleased that her experience of attending an arts event has had a positive impact on her own practice and future as an arts event attender.
Illustration inspired by Michael Pennie sculptures:
I was seating few minutes sketching few Michael sculptures, which i really enjoyed! That is what cames from my sketches 🙂
 Day 5: Last Day- Is it the End?!
So today is my last day at the Salisbury Arts Centre. It was really fun and interesting week! In my opinion this experience was really successful, I explored Salisbury more in depth and I am in love in this City! It is so different than Southampton, I love little vintage shops, many home feel cafes and really nice people, smiling all the time… How you could not smile in this place! Salisbury is small place but have many art places, opportunities and lots is going on which I like. Also everything nice is just walking distance from each other so pair of legs are good enough to come and visit Salisbury, which I really recommended !
Salisbury in Photos:
Town:
Market Place, Salisbury
River Line, Salisbury
Market Place, Salisbury
Bridge Street, Salisbury
Market Place, Salisbury
Vintage Shop, Fish Row, Salisbury
Salisbury Cathedral
Bridge Street, Salisbury
Arts Centre:
I really enjoyed Arts Centre experience, people here are very nice and friendly. They have big selection of workshops, exhibitions and events program and many thing to see and discover, also little cafe to seat down and chill out! Is you around you just need to pop down!
Salisbury Arts Centre, Outside
Salisbury Arts Centre, Pottery Room
Salisbury Arts Centre, Main hall, Caffee
Salisbury Arts Centre.
Fisherton Mill:
I did visit Fisherton Mill and it is my favorite place in the whole Salisbury! Amazing food, coffee, art shop full of hand made stuff, and open studios with gallery upstairs, amazing place!
Fisherton Mill, 2015
Fisherton Mill, Art shop
Fisherton, Caffee
I have in my plans to make illustrations around this experience, about Salisbury, Arts Centre  and Michael Pennie furniture, but that will come soon in my studio in Southampton 🙂
I am hoping to come back to Salisbury soon.. So noo it is not the end! It is just beginning!
Ref:
Day 1:
www.wikipedia.org
www.culture.pl
Day 2:
http://3.bp.blogspot.com/-pLaIsJGSUac/T5B-JsFRRNI/AAAAAAAAAK4/DizT7jeiHAs/s1600/img_screenprinting.png
Day 4:
www.michaelpennie.org
Today view: 1
- Total View: 2136